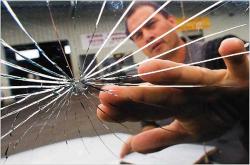 Sun Desert Glass offers OEM auto glass replacement or windshield repair. In most cases same day service at your convenient location.
Do you have insurance questions? Let Sun Desert help answer these. We take the hassle out of fixing most windshield repair or replacement claims.
Auto Glass Repair & Replacement
Sun Desert Glass uses the highest quality, OEM  autoglass (original equipment manufacturer), factory approved sealers and state of the art windshield repair techniques for our auto glass replacement and repair services.
Some Great Reasons to Choose Sun Desert Glass
Safety is our #1 priority. We use only certified technicians, and comply with all DOT and AGRSS safety standards, which are among the strictest in the industry.
The best service in Arizona. We will send our certified technician to your Phoenix area home or business, same day! We will also pick up and return your vehicle for you if needed.
Sun Desert Glass provides security with a lifetime warranty.
Here are some frequently asked questions that may help you.
Q, When replacing my windshield, will my rates go up?
A. Insurance companies generally will not raise rates because of a windshield claim. To be sure, contact your insurance agent.
---
Q. Who should I call first, my insurance agent, or Sun Desert?
A. In most cases Sun Desert Glass can take care of the call for you. There are a few insurance companies that prefer to talk to the insured first. If you are in doubt, call 623-398-0466, and we will handle all the paperwork for you, including checking with your insurance agent.
---
Q. Does my deductable apply when I replace my windshield?
A. In the state of Arizona, the deductable does not apply to the windshield. If you have Glass Coverage your windshield is replaced at no charge. Any questions that you have can be directed to your insurance company.
---
Q. What about any other glass in my vehicle, like door glass or back glass?
A. Always check with your insurance company about a deductable that may apply. Sun Desert Glass accepts Visa, Mastercard, Discover, Cash, or check as a payment option.
---
Q. If I repair my windshield, will my insurance pay for it?
A. Most insurance companies will pay 100% of the repair or replacement.
---
As you can see, Sun Desert Glass does everything you expect an auto glass company to do and then some. We hope you don't have glass problems, but if you do, call sun Desert for the best service in the area.